CHARITY
Shay is known for being a kind hearted person. For a very long time she's supporting lots of amazing charities, which you can find right here; with their causes and ways you can support them.
---
» Somaly Mam Foundation
In June 2007 the Somaly Mam Foundation, a nonprofit organization formed in the United States that supported anti-trafficking groups and helped women and girls who had been forced into sexual slavery. The Somaly Mam Foundation (SMF) attracted the support of U.S. business leaders and Hollywood stars. SMF was the global fundraising arm of Somaly Mam's Phnom Penh-based AFESIP. After the May 2014 Newsweek article questioning Mam's claims, the Somaly Mam Foundation undertook its own investigation by Goodwin Procter, a Boston-based law firm. The foundation shut down in October 2014.
---
» The Trevor Project
The Trevor Project is an American non-profit organization founded in 1998 focused on suicide prevention efforts among lesbian, gay, bisexual, transgender, and questioning (LGBTQ) youth. Through a toll-free telephone number, it operates The Trevor Lifeline, a confidential service that offers trained counselors. The stated goals of the project are to provide crisis intervention and suicide prevention services for lesbian, gay, bisexual, transgender, and questioning (LGBTQ) young people ages 13–24, as well as to offer guidance and resources to parents and educators in order to foster safe, accepting, and inclusive environments for all youth, at home and at school.
---
» NOH8 Campaign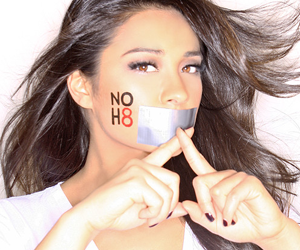 The NOH8 Campaign (NOH8 meaning "No Hate") is a charitable organization whose mission is to promote LGBT marriage, gender and human equality through education, advocacy, social media, and visual protest. The campaign was created as photographic silent protest by celebrity photographer Adam Bouska and partner Jeff Parshley in response to the passage of Proposition 8. Photos featured subjects with duct tape over their mouths, symbolizing their voices being silenced by Prop 8 and similar legislation around the world, with "NOH8" painted on one cheek in protest. "H8" (leet for 'hate') is short for "Proposition H8" (pronounced "proposition hate"), a nickname used by critics of the proposition. The photos were featured on the campaign's website, as well as social networks, and a virtual world campaign in Second Life. To date, NOH8 Campaign has hosted official photo shoots in 48 of the 50 United States (plus D.C.) and 20 countries around the world. While our work continues here in the US, we must not forget that there are still places around the world where simply being who you are means living in fear for your life every single day. Our mission to promote love, acceptance and respect for all human beings will continue in pursuit of #NOH8Worldwide.
---
» WE Charity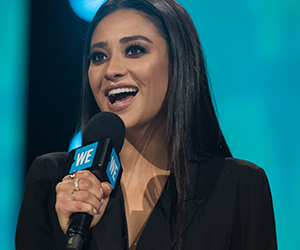 Formerly known as Free The Children, WE Charity is an international development charity and youth empowerment movement founded in 1995 by human rights advocates Marc and Craig Kielburger. The organization has development programs in nine countries, focusing on education, water, health, food and economic opportunity. It also runs domestic programming for young people in Canada, the U.S. and U.K. for service learning and active citizenship with the aim of empowering youth to become socially engaged. This includes WE Day, a series of large-scale motivational events held in 17 cities throughout the school year. Charity Intelligence Canada awarded WE Charity its highest four-star rating for public reporting and results. On August 4, 2017, WE Charity became the first recipient of the newly-established Good Housekeeping Humanitarian Seal. In November 2018, MoneySense rated WE Charity among the 100 Top-Rated Charities in Canada, awarding it A+ grades in Fundraising Efficiency and Charity Efficiency in the category of International Aid organizations. The organization promotes a philosophy of socially conscious living, embodied in the phrase "Me to WE" – the title of a 2004 book by Craig and Marc Kielburger. That idea of "we" has been reflected through the organization's programs such as its WE Day events, launched in 2007, leading up to an updated branding of "WE Charity" from early 2015.
---
» GLAAD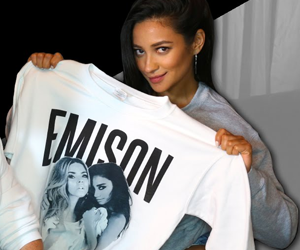 In 2016 Shay and her Pretty Little Liars co-star Sascha Pieterse teamed up with Represent Clothing to promote t-shirts of Shay and Sascha sharing a towel and hinting to their on-screen relationship in PLL. The 'Emison' shirts were sold through Represent Clothing on their website for $24.99 ($39.99 the pullover), with 50% of proceeds going to benefit GLAAD. In total 4,635 products were sold. More about GLAAD: formerly the Gay & Lesbian Alliance Against Defamation is an American non-governmental media monitoring organization founded by LGBT people in the media. Before March 2013, the name "GLAAD" had been an acronym for "Gay & Lesbian Alliance Against Defamation", but became the primary name due to its inclusiveness of bisexual and transgender issues. Following the 2011 resignation of Jarrett Barrios from the GLAAD presidency, Mike Thompson served as interim president until the announcement of Herndon Graddick, previously GLAAD's Vice-President of Programs and Communications, to the presidency on April 15, 2012. Graddick is the younger son of Charles Graddick of Mobile, a circuit court judge and the former Attorney General of Alabama. In 2013, Jennifer Finney Boylan was chosen as the first openly transgender co-chair of GLAAD's National Board of Directors. On March 24, 2013, GLAAD announced that it had formally dropped the "Gay & Lesbian Alliance Against Defamation" from their name and would now be known only as GLAAD to reflect their work more accurately; the name change was a commitment to incorporate bisexual and transgender people in their efforts to support the LGBT community in its entirety.
---
» Raven + Lily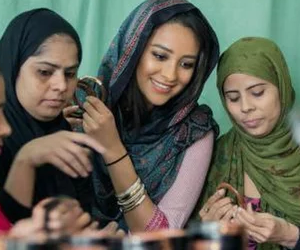 In 2015 Shay embarked on a trip to India with ethical fashion brand Raven + Lily to help the team with its mission of helping women around the world break the cycle of poverty through safe jobs that provide a sustainable income. Mitchell first learned about the company when she noticed a friend "wearing a beautiful necklace," she tells InStyle shortly after her trip. "She told me it was a company called Raven + Lily and that the necklace had been made from melted down bullet casings by HIV+ women in Ethiopia." Mitchell found the story so rich and inspiring that she just had to learn more. "No woman should ever have to experience this. Ever. But human trafficking is something that is uncomfortable to talk about and, for that reason, it's often swept under the rug or not discussed. In order for this to end, we have to talk about it. We have to talk about the issue of human trafficking, the solutions and the reality that it's happening everywhere." Shay about why trafficking victims affect her the way they do. Raven + Lily started with a small group of a few artisans and has grown into 13 partnerships employing thousands of women. What can we do to change the world? Shay said: "It's up to you and I to make wise and careful choices about the products we buy because every time we make a purchase we have the chance to help someone. I know that it can feel overwhelming, but start small. Find companies like Raven + Lily that are fair trade, ethical and environmentally-friendly and make a point to shop from them when you need things for yourself or for a gift. By doing so, you'll have a chance to help people around the world, but you'll also feel good about it—and you'll have a great story to tell every time someone compliments what you're wearing". Raven + Lily is a fair trade fashion brand specializing in uniquely beautiful leather bags and jewelry. Since 2008, they've empowered over 1,500 women artisans with a fair trade wage and access to a safe job, sustainable income, healthcare, and other tools they need to thrive. Additionally, every purchase of a Raven + Lily product helps fund microloans to female entrepreneurs in our partnership communities.
Website | Shay's Interview | Shay's Article | Photoshoot
---
OTHER PROJECTS
» Buxom Cosmetics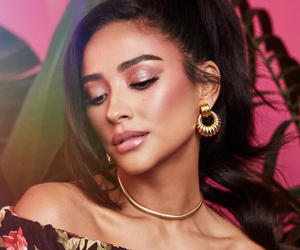 In 2018 Buxom Cosmetics announced Shay as their official global brand ambassador. The brand statement: "We believe in going big, being bold and feeling sexy – and that unapologetic attitude comes through in everything we do. Because here, sensuality is a strength. It's how we move through the world. Our larger-than-life, sensorial beauty stimulates your senses and amplifies what you love most about yourself, so you can feel even sexier in your skin. We live to fuel you with the confidence to go all in – and be 100% yourself, 100% of the time". Shay helps develop the brand's creative content and social media campaigns. For her, a makeup lover, the partnership was a no-brainer. "I've been such a huge fan of [Buxom's] products for the longest time and now [I] get to play around with them and talk about why," she says. On Buxom's official website, where you can also purchase the collaborations with Shay, there's a seperat tab where you can find Shay's personal favorites. The tab description says "Get a vacay glow all winter long with my NEW must-have blush and highlighter palette and pair it with my other fave products. So obsessed". On YouTube you can find lots of videos of Buxom x Shay, and Shay talking about her obsession with the beauty brand. As for now Shay is one of the many faces promoting the brand on social media with her regular posts. She's also the main model for the brand's products. Buxom Cosmetics is available online, at Sephora, ULTA Beauty, and Macy's Impulse.
Website | Instagram | Twitter | Facebook | YouTube | Photos
---
» Béis Travel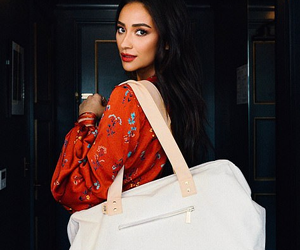 BÉIS began with a promise: to give everyone the opportunity to pack up their stuff and hit the road—from the gym to Jaipur—with bags and accessories that wouldn't break the bank. And never compromise on function or looking selfie-ready cool. In late 2018 Shay launched a stylish (and affordable) line of travel accessories. The line is available at Nordstrom with products starting at just $25. The brand also supports Girl Up, the United Nations Foundation's initiative that stands for girls' empowerment and education. For every product purchased, Béis will donate a portion of the proceeds to the organization. The first drop from BÉIS featured backpacks, weekender bags, cosmetics cases, luggage tags, and passport covers. An interesting fact about this brand is, it's fully Shay's. It's not "another celebrity collaboration", the company was founded by Shay and she gives her go on every single travel accessory coming along. Of course, Shay's the brand's ambassador as well, sharing photos and videos of herself with her beautiful travel "friends" every now and then. "After countless trips and #Shaycations, I realized that I wanted to create amazing, affordable pieces for travelers like myself and—in turn—everyone inspired to seek new places, meet new people and share the world", Shay said.
Website | Instagram | Twitter | Facebook | Nordstrom | Photos
---
» Biorè Skincare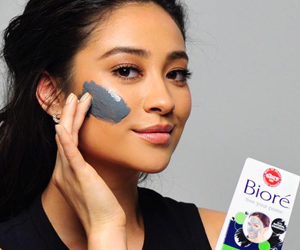 The story behind Kao (Bioré's brand's parent company) begins with a small face-care company in Tokyo founded by Mr. Tomiro Nagase in 1887. Tomiro was on a mission to make affordable, high-quality, facial soap—which he called "Kao" – pronounced the same way as the Japanese word for "face". Today, Bioré is a pore focused–or more like a pore obsessed– face care brand in the US that continues the mission to make high quality, affordable skincare products that provide a variety of skincare benefits. Even though we create our own line of products in the US, we approach all of our product development with a Japanese Beauty Philosophy and are able to leverage our parent company's amazing Japanese technology. These technologies are backed by years of research and development.  Our Japanese beauty roots inspire us to improve and innovate in everything we do—innovation is in our DNA. Bottom line, our products perform. With technology rooted in science, we take a no-nonsense approach to fight smarter, not harder–while having a little bit of fun along the way! Our products focus on those 20,000 pesky pores, providing deep cleansing products for the skin of your dreams. Since 2016 Shay is one of the brand ambassadors, sharing regular posts of herself using their skincare products, appearing in commercials and hosting events such as launches for new products for the brand.
Website | Instagram | Twitter | Facebook | YouTube | Photos
---
» Adidas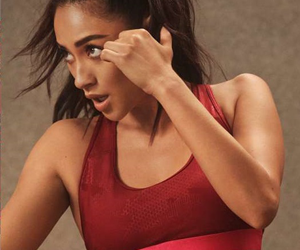 In 2018 Adidas launched their 'Here To Create' campaign which featured celebrites such as Shay, Dua Lipa and Karlie Kloss. The collection consists of sleek and elegant sports bras, statement leggings, structured jackets, and more. Shay herself joined the campaign due to her love and passion for workouts, boxing and other sports. In an interview she said "I truly love all forms and all types of exercise. I love mixing things up and noticed how much energy I had when I boxed on Monday, spin class on Wednesday, and some sort of interval training on Thursday. I am honestly the best version of myself right after a workout". The Here To Create campaign runs since 2016 and gets renewed every year with different ambassadors. For 2018 Shay was chosen as one of the many female ambassadors of the campaign. It's unsure if she continues her journey with Adidas but it's for sure she'll continue working out and giving advice on how to stay in shape and how to love your body. She said "I just want people out there to really understand that there is nobody else like you, and you can do ANYTHING. It's important that you have a good sense of self and to be proud of who you are. I don't ever put out content that makes me feel bad about myself but I'm human, so of course there are moments when I get down. Nothing brings me out of that funk like a good boxing session". Even if it's unsure if Shay continues her collaboration with Adidas, we may get to see more of these kind of collabs, as she told in an interview: "I love collaborating! It keeps things fresh and exciting and I am always down to hear other people's ideas and experience something someone else enjoys. You never know… someone may turn you on to something amazing you've been missing out on!".