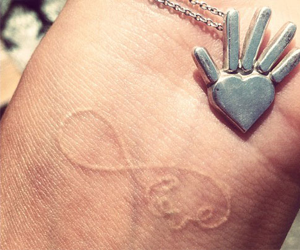 love ∞
A white inked infity symbol which leads into the word love was Shay's first tattoo. This lovely tattoo is her first official one, even tho it's barely visiable. The white ink blends perfectly into her skin tone which makes it almost impossible to see this tattoo. During events and such flashlights are used which make this tattoo be gone instantly. If you ever get the chance to meet Shay and to get closer to her you may notice this beautiful little piece of art on her left wrist.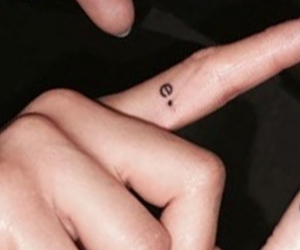 e.
The six leading cast members from the TV show Pretty Little Liars celebrated their final day of filming on October 28, 2016 by getting matching tattoos of their characters' initials. They chose their index fingers for the matching ink because of the shhhh that they all make in PLL's opening credits to show that they are hiding secrets. Shay Mitchell got a lowercase "e." for her character's name Emily Fields. In a snapchat video, Ashley Benson asks if she's scared to get the tattoo, to which she responded "Yeah I am.  It's exposed.  I have one [tattoo] and it's white". In fact Shay was so scared of the pain that she didn't even want the tattoo at first, and had to be convinced by the other girls. She told Refinery 29: "I didn't want to be a part of this at all! I don't understand what's wrong with Henna, why can't we get something like that? Not because of the permanent factor, but because of it's painful. And on your finger, it's even more painful! I mean, I ended up doing it, I just held onto everybody's hands and was sweating profusely. But, I made it".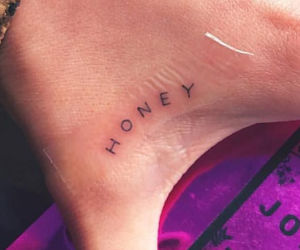 HONEY
In 2018, during the Coachella Music Festival Shay got 'HONEY' written on her hand, between her thumb and pointing finger. On April 20, 2018 she shared an Instagram post, saying "I may or may not of gotten this tattoo at #Coachella… find out in my video going up later today! 🍯🤪💻// REAL or FAKE ?! Comment below!". We now know it's not fake and this cute tattoo was inked by Jon Boy, a Los Angeles based tattoo artist.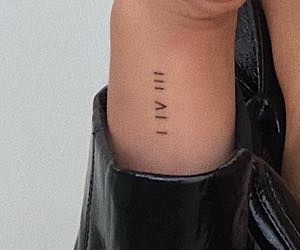 I IV III
Shay has the roman numerals I IV III – 1 4 3 – inked on her right wrist.  1 4 3 is a code for "I Love You" based on the number of letters in each word. This meaningful and beautiful as well as simple tattoo is one of a kind. Since it's pretty small as well this tattoo can be covered up easily for roles.