Welcome to Shay Mitchell Daily! Your best online source for everything about Canadian actress Shay Mitchell. On our site you'll find the latest news, photos and so much more about the talented and beautiful actress, blogger, CEO and personality. We aim to provide you all the latest news about Shay and her projects, as well as daily updates in our gallery. Make sure to follow us on Twitter to get all the latest updates. Thanks for visiting, enjoy your stay and come back soon.


Current Projects
DOLLFACE (2019)
Shay as Stella Cole
After breaking up with her longtime boyfriend, a woman tries to reconnect with the friends she lost during the relationship.
SCHWARZKOPF (2019)
Shay as Ambassador
Schwarzkopf, a hair product company, announced Shay as their Color ULTÎME collection ambassador.
The Possession of Hannah Grace (2018)
Shay as Megan Reed
A shuddering exorcism spins out of control and claims the life of a young girl. Months later, while working the night shift at the hospital morgue, Megan Reed receives a disfigured corpse. Alone and locked in the corridors of the cold basement, she starts to experience hair-raising visions, which lead her to suspect that the dead body delivered that night is possessed by a ruthless evil entity.
BEIS (2018-)
Shay as Ambassador/Creator/Founder
BEIS began with a promise: to give everyone the opportunity to pack up their stuff and hit the road - from the gym to Jaipur - with bags and accessories that would not break the bank. And never compromise on function or looking selfie-ready cool.
MASTER THE MESS (2018)
Shay as Herself
Clea and Joanna tackle their largest project yet when they meet with actress and social media mogul Shay Mitchell to reorganize her studio and glam space. Clea and Joanna attempt to shake up their unhealthy travel routine by taking a Pilates class.
YOU (2018)
Shay as Peach Salinger
Based on Caroline Kepnes' best-selling novel of the same name, YOU is a 21st century love story that asks, "What would you do for love?" When a brilliant bookstore manager crosses paths with an aspiring writer, his answer becomes clear: anything. Using the internet and social media as his tools to gather the most intimate of details and get close to her, a charming and awkward crush quickly becomes obsession as he quietly and strategically removes every obstacle - and person - in his way.
BUXOM COSMETICS (2018-)
Shay as Global Brand Ambassador
Buxom Cosmetics is a beauty brand that serves all your beauty needs. Their larger-than-life, sensorial beauty stimulates your senses and amplifies what you love most about yourself, so you can feel even sexier in your skin.
BIORE (2016-)
Shay as Ambassador
Biore is a pore focused face care brand in the US that continues the mission to make high quality, affordable skincare products that provide a variety of skincare benefits. They approach all of their product development with a Japanese Beauty Philosophy and are able to leverage our parent companys amazing Japanese technology. These technologies are backed by years of research and development.
PRETTY LITTLE LIARS (2010-2017)
Shay as Emily Fields
Set in the fictional town of Rosewood, Pennsylvania, the series follows the lives of four girls, Aria Montgomery, Hanna Marin, Emily Fields, and Spencer Hastings, whose clique falls apart after the disappearance of their leader, Alison DiLaurentis. One year later, the estranged friends are reunited as they begin receiving messages from a mysterious figure named "A", who threatens to expose their deepest secrets, including ones they thought only Alison knew. At first, they think it's Alison herself, but after her body is found, the girls realize that someone else is planning on ruining their not so perfect lives.
Photo of the moment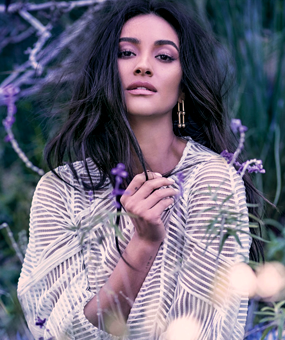 Visit our gallery with +34,000 photos of Shay.
Information & Disclaimer
Name
: Shay Mitchell Daily
URL
: www.shaymitchelldaily.net
About
: Shay Mitchell
Established
: April 12, 2015
Contact
:
contact[@]shaymitchelldaily.net
Version
: #010 by Monica Design
Hosted by
:
Flaunt Network
|
DMCA
|
Privacy Policy
Shay Mitchell Daily is a non-official site for Shay's fans. We have no contact with the actress herself, her family or someone close to her. This site is non-profit, and is in no way trying to infringe on the copyrights or businesses of any of the entities. Images and videos credits go to their respectives owners, please contact us if there's a problem, before taking any legal actions.


SHAY MTICHELL DAILY | 2015 - Present ©